DWS
The Designer Warehouse Sales
Where
5 | 6 Islington Studios, Thane Works, Thane Villas, London N7 7NU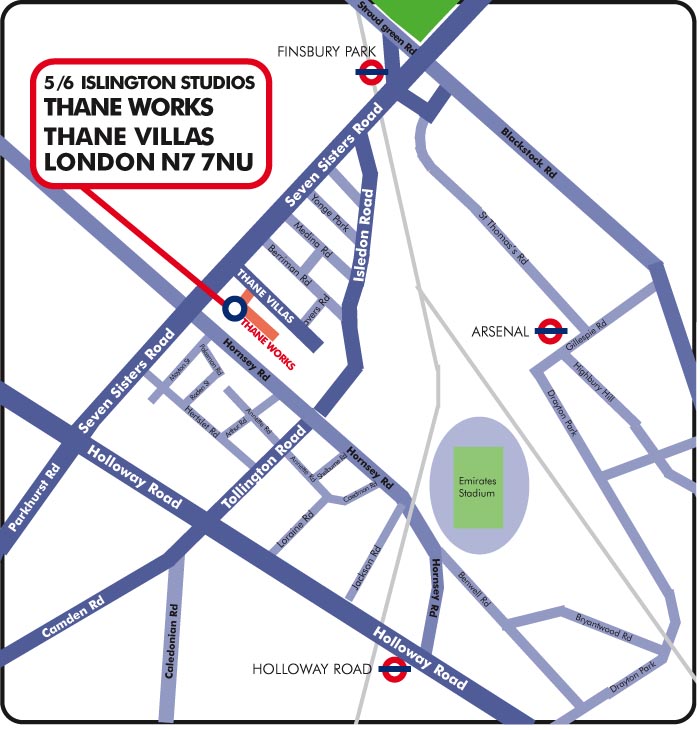 Click here for a downloadable, printable map.
Parking:
The only off-street parking is in the Michael Sobell Sports Centre. on Hornsey Road, between Seven Sisters Road and Isledon Road.
Directions by tube:
From: FINSBURY PARK TUBE 9 MINS (Victoria line and Piccadilly line) Turn right out of the tube station walk down the Seven Sisters Road Turn left into Thane Villas then 1st right to Islington Studios.
From: HOLLOWAY ROAD TUBE 11 MINS (Piccadilly line) Turn left out of the tube station walk up the Holloway Road Turn right at the Seven Sisters Road, cross Hertslet Road then Hornsey Road Turn right into Thane Villas then 1st right to Islington Studios
From: ARSENAL TUBE 15 MINS (Piccadilly line) Turn right out of the tube station walk down Gillespie Road Turn into Drayton park, turn right into Bryantwood Road At roundabout turn right onto Benwell Road then into Hornsey Road Turn right into Seven Sisters Road then right into Thane Villas 1st right to Islington Studios
Directions by car:
From the west end either cross the Holloway Road drive up the Seven Sisters Road (one way) turn into Thane Villas or turn from the Holloway Road and drive up the Seven Sisters Road (one way) turn into Thane Villas From the north drive down the Seven Sisters Road till the one way system drive down Isledon Road. Turn right into Hornsey Road and then right into the Seven Sisters Road (one way) turn into Thane Villas

Designer bargains at 50 & 80% off the
original price tag

- Daily Telegraph

Give into temptation It's hard finding quality like this at prices so low

- Where London

The very best sale of the lot

- The Independent

One of the best-kept secrets in the fashion world

- Time Out Student Guide

The Sale of the Century

- Girl About Town

You'll save yourself a small fortune and be in for a treat

- Daily Express

Come prepared to battle and lose your inhibitions

- Time Out

Style devotees can buy the current season of menswear at bargain prices

- Evening Standard

There are more than 100 labels to choose from, all with about two-thirds off

- The Sunday Times Style